Welcome to Hai Kuang Online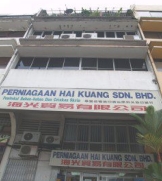 Hai Kuang is an established company specializing in Malaysia specialty graphic imaging industry since 1970. With many years of experience and technical know-how, we are in the best position to give you the latest technical support and advice.
Based on a good reputation in the specialty graphic imaging industry, we have strategic partnership with many leading suppliers and international manufacturers.
Our products are extensively used for automobile products, industrial application, consumer merchandise, home appliances, advertising materials and so on.
Thus, we can provide many corporations (including international enterprises and listed companies) with set products and know-how covering newly created equipment and industrial materials.
Our Products and Services
Instead of trading general printing items, Hai Kuang provides solutions to your needs. While developing the market, we insist on complying with customers as priority and striving to meet your requirements. Therefore, we solemnly promise:
1) To provide customers with professional guidance in purchase consulting.
2) To sell standard and guaranteed products in unity with competitive price.
3) To offer speedy after-sale service as well as free customer-tailored trainings.